Regular price
Sale price
$69.00 USD
Unit price
per
Sale
Sold out
1 GALLON PRODUCTS ARE FOR USA CUSTOMERS ONLY 
*Free Shipping on all Fertilizers with Purchase of 3 gallons or more within USA.*
CalMax is a 10-0-3 product containing 11.0% calcium and a balanced range of micronutrients.  CalMax is specifically formulated for use as a foliar fertilizer and can be applied to all fruit and vegetable crops to improve fruit firmness, size, quantity, storability, colour and skin finish.  
 Analysis:
N - 10%
Ca - 10%
Mg - .6%
Fe - .1%
B - .2%
Zn - .3%
Cu - .05%
Number of Applications: Every week from flowering to end of harvest 
Recommended Rates: 
Acre Rates: 1L/acre

 in 10gal of water 

Area Rate: 2-4oz/1000ft2
Fine Mist: 25ml/L CalMax (handheld pump sprayer or backpack)
Large Droplet: 15ml/L CalMax (spray bottle)
*Available in 500L and 1000L Totes. Contact Us for more information*
Great for use on: 
Tomatoes 
Peppers
Cucumber 
Lettuce 
Beets 
Onions, Garlic, Shallows and Leeks 
Cabbage, Cauliflower, Broccoli 
Corn
Peas and Beans 
Carrots 
Potatoes 
Strawberries 
Blueberries 
Haskaps 
Blackberry 
Grapes
All Fruit!
View full details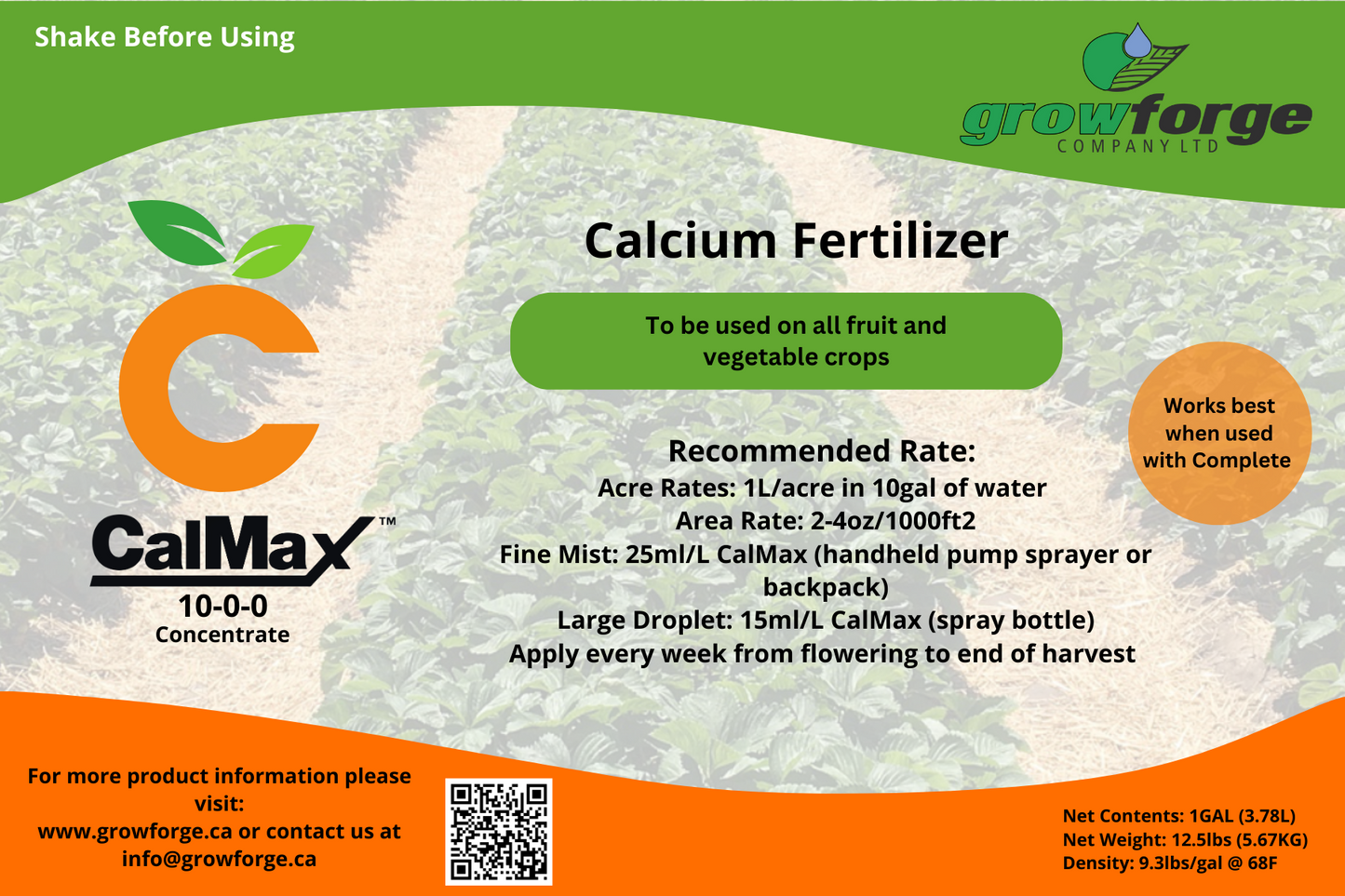 Questions?
Check out our FAQ page by clicking the link below. You can also contact us by clicking here.